Hot organic food market continues to grow strongly
(Google Translation)
Sales of organic food in Sweden increased by 6.0 billion in 2015, representing an increase of 39 percent compared with 2014. The total reverb intensity rose by just over 2 percentage points to 7.7 percent.
Download the report here >>  (In Swedish)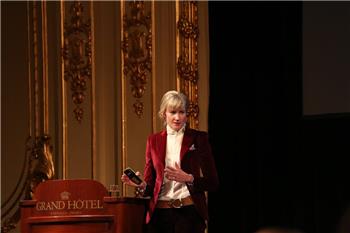 m
Ekoweb have now summarized the preliminary sales figures for 2015. The summary shows that sales of organic food overall has increased by 39 percent.
The total turnover of the food market about 280 billion in 2015 including retail, shops, hotels & restaurants, and public market.
According to the Consumer Price Index (CPI), published by Statistics Sweden, food prices rose about 2.5 percent in 2015. According to estimates Ekowebs organic food was sold for SEK 21.5 billion in 2015. This is an increase of 6.0 billion compared with 2014, which they sold organic food for 15.5 billion crowns. Ekowebs forecast in last year's report was an increase of 20 percent.
The share of organic sales of total food sales value amounted 2015 to 7.7 percent. This is an increase of 2.1 percentage points, from 5.6 percent ekoandel 2014. It is different now just 0.6 percentage points to Denmark ekoandel record high of 8.3 percent. Something that may qualify as a true continuation joy for ekobranschen sales are on the Liquor store.
After an already strong 2014, organic sales increased by a further 68 percent in 2015. Sales are now approaching 3.4 billion according Ekowebs calculation. It enables Systembolaget is now the second largest player in terms of organic food sales in Sweden. In retail sales of organic food has been very good even in 2015 and this, sales have increased by 40 percent.
Sales growth of 40 percent due mostly to higher sales volume, and this is mainly ICA (+50 percent), Axfood (+43 percent) and Coop (+ 19%), which draws up the sales figures. Looking at the different product segments in the retail sector, it is a steady increase in all. Prices of organic food has remained constant during the year despite shortages in many segments.
The organic food sales have also continued to develop positively in the public market. Here, sales have increased by over 20 percent during the year. Organic has also continued to increase in the sector, hotel and restaurant, but here in a considerably lower rate of about 10 percent. However, the calculation is more uncertain for this sector and is an assessment based on regular contacts with actors in hotel & restaurant.
A strong growing trend is the trade of food via the internet and is now taking a market share of 1.5 percent of the total food trade . As a comparison, the corresponding share in the UK accounts for 5 percent of total food sales. On the Web, the proportion echo higher than in the physical retail, approximately 10-15 percent compared with 6.6 percent in retail. It involves the sale of the network of organic food in Sweden of just over SEK 0.5 billion in 2015. Sales of organic food in the e-commerce is currently growing over the year by 40 per cent.
Imports of organic vegetables has accelerated during the year, which led to the Swedish the proportion of organic vegetables has decreased. The Swedish volume is still expected at the same time have grown by 10-20 percent.